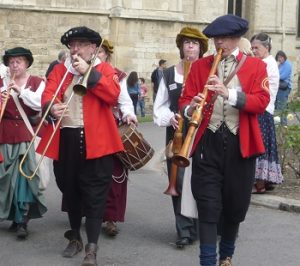 We are a group of local musicians who have a passionate interest in music and history. Our interests have led us to perform early music on copies of original instruments and to wear clothes appropriate to the time of the music. Ours is not the music of the courts and the aristocracy but the music of the common people. The waites were the original town band and played for civic events , feasts, weddings and in the streets. Doncaster had a band of waites from 1457 to 1832 and it is the spirit of these musicians that we try to re-create.
The Doncaster Waites are:-
Andrea Offord – bagpipes, recorders, pipe & tabor, rauschpfeife
Lynn Harvey – shawm, bagpipes, pipe & tabor, recorders
Norma Sharp – shawm, recorders, tabor pipe
Ray Harvey – sackbut, recorders
Roger Offord – shawm, hurdy-gurdy, curtal, recorders                         
The present group has been playing together now for over 12 years, but most of us have been playing together for a lot longer than that!
The Doncaster Waites are members of The International Guild of Town Pipers.